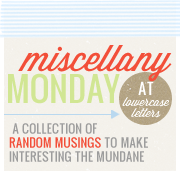 I've linked up today with
Carissa over at Lowercase Letters
for her Miscellany on Monday. It's time for me to jump in with both feet and have a little blog-fun.
If you're not into the fluff n' stuff of life, now is your chance to move along to something a bit more substantial. You're about to enter my world of miscellaneous.
You've been warned.
1)
I'm an awful caretaker.
Paul has been suffering from allergies this week somethin' awful. The first couple of days I kindly passed the Kleenex and Clariton, and kept his iced tea glass filled to the brim. By day six, I'm starting to sound like a rehab nurse/drill instructor. "Blow your nose. Did you take your medicine? Are you whining? Suck it up, wimp boy!"
2)
Me and Grace and Samuel, cuddled up on my bed and finished reading "Because of Winn-Dixie". What a precious book. Tomorrow night we begin reading Samuel's book choice: "Raising Dragons" by his favorite author Bryan Davis.
I absolutely LOVE reading to my littlest ones
.
3)
My backyard plants and lawn are dying a quick summer death. I was thrilled to discover a planter with beautiful flowers still alive. Recently, one of my children's friends came over and while playing in our yard became a sunflower-serial killer.
I'm trying not to hold a grudge against this child. I'm failing
.
4)
It's time once again to play that summertime game my husband and I like to call, "Who messed with the thermostat?" Paul is winning - it's a miserable 82 degrees in here right now.
Time to go make my move...