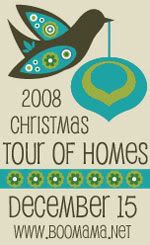 Welcome, it's so nice to have you stop by. Please, come on in. And no, you don't have to take your shoes off,
unless of course you want to
. We have four children so there is nothing that you can do to mess up our house that hasn't been done already.
Please don't peek under the beds or look in the closets. I have stuffed all of my dustbunnies and dirty laundry there for the time being. You must be pooped from running all over the blogosphere, from house to house. Just sit back and relax while I take you on a quick tour!
I'd love to introduce you to my four helpers, Meghan, Samuel, Grace and David. They worked with me for three hours to get our tree decorated and our house ready for you!
(Now where is Dad anyway?)
Here is our Christmas tree. We go to the same little mom and pop Christmas farm each year. Usually we buy whatever is in the burn pile for a pittance of the price of most tree lots. This year we were talked into cutting it down. Kids can be so persuasive sometimes, can't they?
This precious ornament is one of my favorites. Our son David made it in Kindergarten. It has a teeny tiny picture of his face glued on. Our yellow lab amputated his right arm and we had to put it back together with crazy glue one year. Thankfully the surgery was a success.
This antique Victorian bell ornament was given to me by one of my mother's dearest friends. It came with special instructions that we were to ring it every Christmas Eve in memory of my mother. It looks almost identical to the bell ornament in the movie
It's a Wonderful Life
. Our children take a turn ringing it each holiday. Most years we start off our Christmas tree decorations with an ornament-argument over whose turn it is. Since Meghan may be leaving for college next Fall, the kids decided she could ring it this year.
I bought this
Precious Moments
nativity when I was a teenager. Joseph is missing his staff, one of the shepherds has lost his staff too, and one little sheep is lost. Oh the joys of children.
My daughter Meghan painted the framed picture of the Christmas tree when she was in grade school. I just love it.
Poor Santa, he already looks pooped!
Now that the kids are older, I can put out my Christmas tea set. Have I mentioned to you yet that my favorite Christmas movie ever is
It's a Wonderful Life
? I love the framed movie poster there, a reminder to me that no matter what...my life is pretty wonderful too.
I add a bit of Christmas cheer in my kitchen too.
My garage sale chandelier gets spruced up with a bit of spruce.
What fun this has been! Let me show you to the door. Please forgive me for not offering you any homemade goodies. My helpers and I won't be baking until next week. I do promise to have something extra fattening for you when you stop by next year.
Merry Christmas!