Would a an extreme blog makeover put a new spring in your step?
"Blessed..." is having its first ever blog contest during the month of April.
The lucky winner will receive a custom blog design by my favorite blog designer,
Elisa at Designs by Elisa
. I can't say enough about Elisa. I had my own blog makeover by
Elisa
. She was such a love to work with, so very kind and helpful. I have a love of flowers so she made sure to add a Gerber daisy to my design.
And a little bird told me that she recently took some beautiful pictures of tulips...wouldn't that make a gorgeous blog design?!?

To enter to win, copy the "Blessed..." button html below and place it on the sidebar of your blog. Don't forget to also comment on this post "Enter Me" so I know to drop your name in the hat. You only need to comment once. I will be making the rounds this month to check for the "Blessed..." button on your site for contest eligibility. That's all there is to it!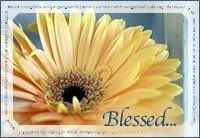 Copy this code for
the graphic and link...
The winner will be picked by random drawing and announced on May 1st.
Good Luck, and may the "Blessed..." gal win!