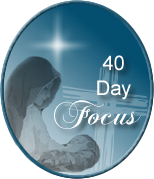 Susan from Eternity Cafe
has devoted forty days before Christmas to take us by the hand. Sharing forty different reasons, thoughts, and devotions about the holiest of nights.
The day God came down and became man.
Take the button above and post it to your own blog.
What a great opportunity to share with your readers and loved ones,the many reasons we celebrate with joy the birth of our Savior and King.
Before you get caught up in the whirlwind of this holiday season, take a moment to stop and focus. Focus on the message of Christmas, the truest and purest of all Holy Nights.