Does your blog need a little pick-me-up? Are you needing a change? Is it time for a little bloggy-bling to make it shine?
How does a
free
Custom Header, Custom Signature, and free Installation from
Trista at Pumpkin Patch Creations
sound?
Well then, I do believe it's time for me to share some bloggy-love.
I admit it, I'm not the best when it comes to giveaways, but I've overcome this weakness for the sake of you precious gals out there in my blog-world who have touched my heart this past year.
You have encouraged me with your stories, made me weep with your prayers and struggles and hearts for Jesus...and
let us not forget
that you've also made me snort with laughter!
Yes, I have been known to snort from time to time. I am a delicate flower like that.
So, here's how it works:
Post a comment below to throw your hat in the ring. Then take my
Blessed...
button below and post it to your sidebar.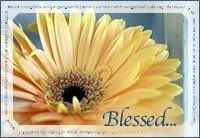 Copy this code for
the graphic and link...
That's all there is to it.

I will be picking a winner on Saturday, February 14th, yep, you guessed it, Valentines Day.
What better day to share the love of my heart with you?